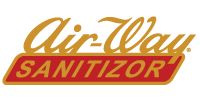 Your Way to a Cleaner, Healthier Home
Air-Way Sanitizor continues to make the finest quality vacuum cleaners, with the latest technology and highest quality HEPA filtration.

In addition, Air-Way has high quality central vacuum systems, clinically proven to reduce allergy symptoms.

And, Air-Way has a broad range of products for "Green Cleaning", hardwood and laminate floor care, and carpet care.
© 2021 Airway Sanitizor Corp. All Rights Reserved.